---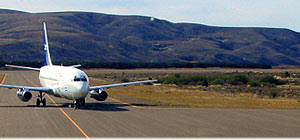 Flights
During the high tourist season, there's a daily frequency of incoming flights from the city of Buenos Aires into our local airport, located 22 kilometers (approx. 14 miles) away from town.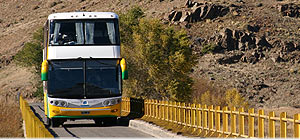 Getting here by bus
The San Martín de los Andes bus terminal is located opposite Lácar Lake and only five blocks from the civic center. Buses belonging to different transportation companies, arrive here every day, connecting the city to the main tourist circuits in the region.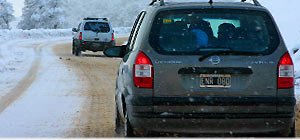 Driving in
For those wanting to drive to San Martín de los Andes, there are several national and provincial roads that connect San Martín de los Andes to the rest of the country and to Chile.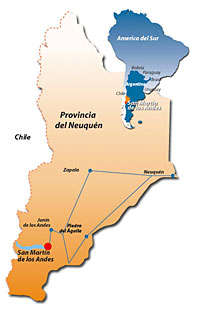 The city of San Martín de los Andes is located in the south of the Province of Neuquén, about 430 kilometers (267 miles) from the capital of the province, and 1575 km (978 miles) from the city of Buenos Aires.
Situated in an ample valley on the coast of Lake Lácar at 640 meters (2100 ft) above sea level. Because of its privileged geographical location San Martín de los Andes becomes the gateway to an exceptional tourist circuit known as the Lake Corridor where you can enjoy volcanoes, lakes and lagoons, meltwater streams, rivers and forests.
The city is settled within a natural system known as the Wet Patagonian Andes, a mountain chain covered by multicolored native forests of Nothofagus (false southern beech trees) such as Roble pellín (Roble beech), Coihue, Lenga, Raulí and Ñire (Antartic beech), as well as conifers such as cypress and Araucaria araucana (monkey-puzzle tree), and a great biodiversity of fauna and flora, protected by the Lanín National Park.
Being so close to one of the largest conservation areas in Argentina, and due to the careful urban planning of this mountain village, San Martín de los Andes represents a region of high environmental quality where crystal clear water and fresh air are two of its most welcoming characteristics.

Content manager
:
Secretaría de Turismo
Office
: Secretaría de Turismo - Av. San Martín y Juan Manuel de Rosas
Opening hours
: 7:00hs a 14:00hs
Phone
: 02972-425500

Back to:
Planning your trip

Visit also:
Dining
,
Shopping guide
,
Lodging
,
Travel Agencies
,
Helpful Tips